Jim Naureckas writes for Fairness & Accuracy In Reporting (FAIR):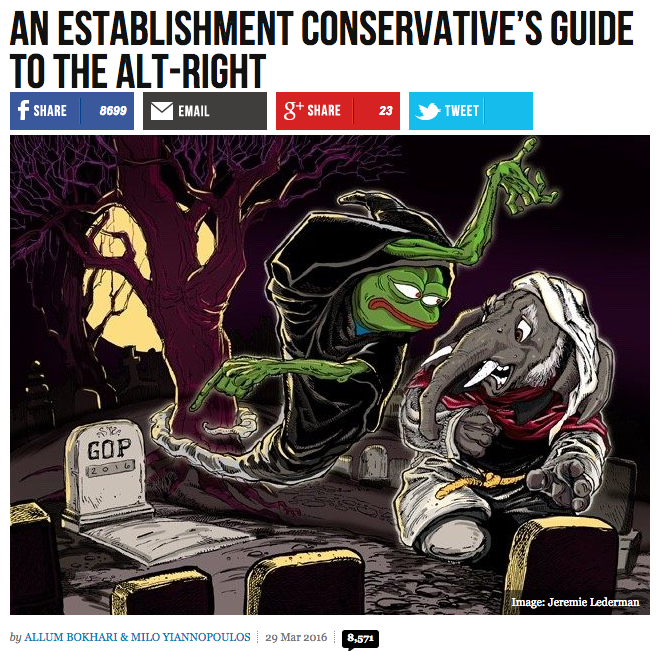 "We're the platform for the alt-right," Donald Trump's new campaign CEO, Stephen Bannon, told Mother Jones' David Corn (8/22/16)—"we" meaning Breitbart News, the online news outlet that Bannon headed until he was picked to run the turbulent Trump campaign.
And the "alt-right"? Well, Breitbart (3/29/16) tried to explain what that is in a 5,000-word piece last spring, written by Breitbart tech editor Milo Yiannopoulos—perhaps best-known for being banned from Twitter for harassing actress Leslie Jones—and Allum Bokhari, who describes himself as the "resident kebab at Breitbart Tech" and "Milo's deputy."
Not that Bokhari and Yiannopoulos find it easy to explain the "alternative right." When it comes time to sum it up in a nutshell, this is the best they can offer:
Young, creative and eager to commit secular heresies, they have become public enemy No. 1 to Beltway conservatives…. The alt-right has a youthful energy and jarring, taboo-defying rhetoric that have boosted its membership and made it impossible to ignore.
They can tell you what it's not, though—racist! Despite the fact that everyone seems to think it is:
Some — mostly Establishment types — insist it's little more than a vehicle for the worst dregs of human society: antisemites, white supremacists and other members of the Stormfront set. They're wrong…. Lefties dismiss it as racist, while the conservative press, always desperate to avoid charges of bigotry from the Left, has thrown these young readers and voters to the wolves as well.
Rather than giving one definition of the alt-right, the Breitbart article chooses to describe it piece by piece. Let's put the pieces together and see what kind of picture it makes.