Stephen Moss writes for The Guardian: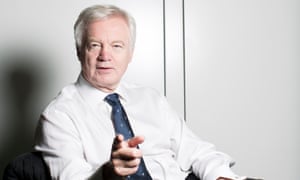 David Davis looks tired and puffy-eyed. It's the morning after Theresa May's unveiling of the government's flagship investigatory powers bill, and he has spent the night getting to grips with its 296 pages. The battle over the bill is going to last for months and Davis, who from the Conservative backbenches has become one of the foremost defenders of civil liberties, will be leading the critics, but he knows this initial period is crucial in shaping public attitudes.
"The government had the most amazing propaganda blitz," he says. "GCHQ had a three-day advertorial in the Times with gushing pieces from young journos, so we knew we were going to get some sort of heavy-duty spin on all of this, and the spin was in my direction – we're going to be more transparent, we're going to have more accountability, we're going to bring in the judiciary, we're going to limit it. All of it turns out to have been overstated. They're making lots of rhetorical moves in the right direction, but the substance doesn't add up. There are loads and loads of holes in it. My impression is they didn't finish writing the bill until the day before they published it."
Davis, who with Labour deputy leader Tom Watson mounted a successful legal challenge to controversial aspects of the 2014 act that currently governs the retention of communications data, is now readying himself to try to fill in those holes. But the problem for critics of the bill, he says, is that the public doesn't care enough about encroachments on their freedom.
"It's astonishing how few people take an interest in this country," he says. "In every other country in the world, post-Snowden, people are holding their government's feet to the fire on these issues, but in Britain we idly let this happen. We're the country that invented James Bond and we like our spies. We have a wonderful illusion about our security services, a very comforting illusion. But it means we're too comfortable. Because for the past 200 years we haven't had a Stasi or a Gestapo, we are intellectually lazy about it, so it's an uphill battle. Even people who are broadly on my side of the political spectrum in believing in privacy and liberty tend to take the state at its word too often."