Carole Cadwalladr reports for The Guardian: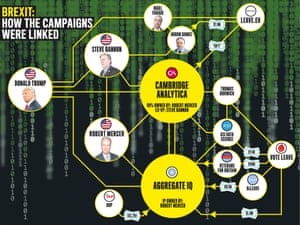 In June 2013, a young American postgraduate called Sophie was passing through London when she called up the boss of a firm where she'd previously interned. The company, SCL Elections, went on to be bought by Robert Mercer, a secretive hedge fund billionaire, renamed Cambridge Analytica, and achieved a certain notoriety as the data analytics firm that played a role in both Trump and Brexit campaigns. But all of this was still to come. London in 2013 was still basking in the afterglow of the Olympics. Britain had not yet Brexited. The world had not yet turned.
"That was before we became this dark, dystopian data company that gave the world Trump," a former Cambridge Analytica employee who I'll call Paul tells me. "It was back when we were still just a psychological warfare firm."
Was that really what you called it, I ask him. Psychological warfare? "Totally. That's what it is. Psyops. Psychological operations – the same methods the military use to effect mass sentiment change. It's what they mean by winning 'hearts and minds'. We were just doing it to win elections in the kind of developing countries that don't have many rules."
Why would anyone want to intern with a psychological warfare firm, I ask him. And he looks at me like I am mad. "It was like working for MI6. Only it's MI6 for hire. It was very posh, very English, run by an old Etonian and you got to do some really cool things. Fly all over the world. You were working with the president of Kenya or Ghana or wherever. It's not like election campaigns in the west. You got to do all sorts of crazy shit."
On that day in June 2013, Sophie met up with SCL's chief executive, Alexander Nix, and gave him the germ of an idea. "She said, 'You really need to get into data.' She really drummed it home to Alexander. And she suggested he meet this firm that belonged to someone she knew about through her father."
Who's her father?
"Eric Schmidt."
Eric Schmidt – the chairman of Google?
"Yes. And she suggested Alexander should meet this company called Palantir."