Yuval Noah Harari reports for The Guardian: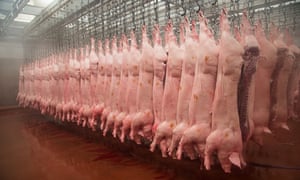 […] The fate of animals in such industrial installations has become one of the most pressing ethical issues of our time, certainly in terms of the numbers involved. These days, most big animals live on industrial farms. We imagine that our planet is populated by lions, elephants, whales and penguins. That may be true of the National Geographic channel, Disney movies and children's fairytales, but it is no longer true of the real world. The world contains 40,000 lions but, by way of contrast, there are around 1 billion domesticated pigs; 500,000 elephants and 1.5 billion domesticated cows; 50 million penguins and 20 billion chickens.
In 2009, there were 1.6 billion wild birds in Europe, counting all species together. That same year, the European meat and egg industry raised 1.9 billion chickens. Altogether, the domesticated animals of the world weigh about 700m tonnes, compared with 300m tonnes for humans, and fewer than 100m tonnes for large wild animals.
This is why the fate of farm animals is not an ethical side issue. It concerns the majority of Earth's large creatures: tens of billions of sentient beings, each with a complex world of sensations and emotions, but which live and die on an industrial production line. Forty years ago, the moral philosopher Peter Singer published his canonical book Animal Liberation, which has done much to change people's minds on this issue. Singer claimed that industrial farming is responsible for more pain and misery than all the wars of history put together.
The scientific study of animals has played a dismal role in this tragedy. The scientific community has used its growing knowledge of animals mainly to manipulate their lives more efficiently in the service of human industry. Yet this same knowledge has demonstrated beyond reasonable doubt that farm animals are sentient beings, with intricate social relations and sophisticated psychological patterns. They may not be as intelligent as us, but they certainly know pain, fear and loneliness. They too can suffer, and they too can be happy.