Remi Adekoya writes for The Guardian: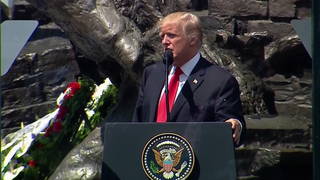 Poland's rightwing government is pulling out all the stops for what it sees as its greatest foreign policy achievement to date: a visit to Warsaw today by US president Donald Trump. In what has to be acknowledged as wily diplomacy, the Law and Justice (PiS) government is appealing to the US president's achilles heel: his vanity, reportedly luring him with promises of adoring crowds, in contrast to the chillier receptions he can expect in western Europe.
The ruling party is bussing in its supporters from all over Poland, encouraging them to take part in a "great patriotic picnic" on the occasion of Trump's visit. The idea is to make the big man feel as good about himself as possible, which will hopefully benefit Poland in some way, such as a more categorical assertion that Nato would – under US leadership – protect Poland from any aggression from Moscow.
PiS is working hard to tickle Trump's ego. The party's leader and Poland's most important politician, Jarosław Kaczyński, described Trump's decision to visit Warsaw as a "new success" for Poland. "[Others] envy it, the British are attacking us because of it." Meanwhile, the defence minister, Antoni Macierewicz, described Trump as "a man who is changing the shape of the world's political scene", adding that his "historic" visit would "once and for all, erase [Poland's] experience of occupation and Soviet enslavement".