Rebecca Mead writes for The New Yorker: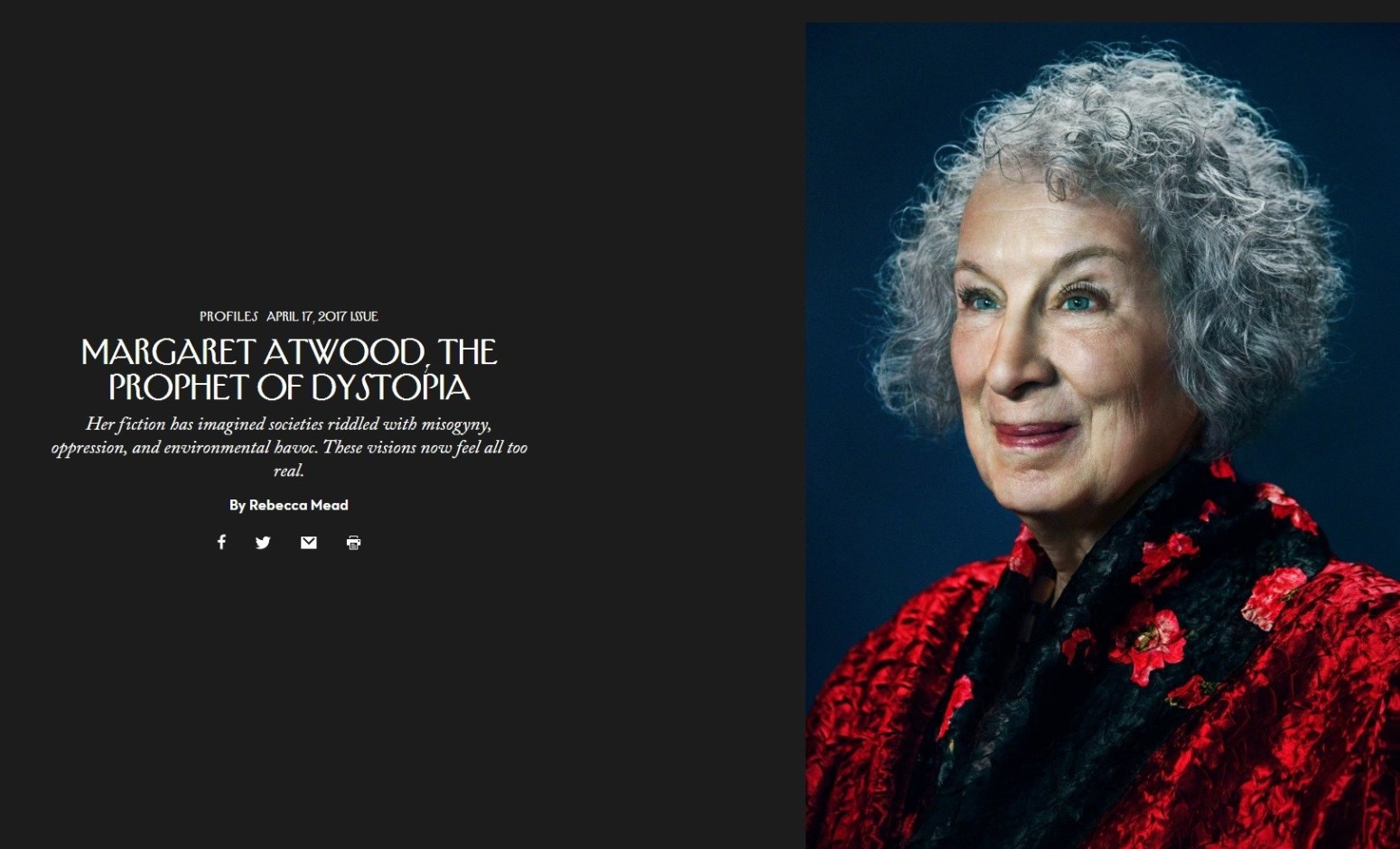 […] Margaret Atwood has long been Canada's most famous writer, and current events have polished the oracular sheen of her reputation. With the election of an American President whose campaign trafficked openly in the deprecation of women—and who, on his first working day in office, signed an executive order withdrawing federal funds from overseas women's-health organizations that offer abortion services—the novel that Atwood dedicated to Mary Webster has reappeared on best-seller lists. "The Handmaid's Tale" is also about to be serialized on television, in an adaptation, starring Elisabeth Moss, that will stream on Hulu. The timing could not be more fortuitous, though many people may wish that it were less so. In a photograph taken the day after the Inauguration, at the Women's March on Washington, a protester held a sign bearing a slogan that spoke to the moment: "make margaret atwood fiction again."
If the election of Donald Trump were fiction, Atwood maintains, it would be too implausible to satisfy readers. "There are too many wild cards—you want me to believe that the F.B.I. stood up and said this, and that the guy over at WikiLeaks did that?" she said. "Fiction has to be something that people would actually believe. If you had published it last June, everybody would have said, 'That is never going to happen.' " Atwood is a buoyant doomsayer. Like a skilled doctor, she takes evident satisfaction in providing an accurate diagnosis, even when the cultural prognosis is bleak. She attended the Toronto iteration of the Women's March, wearing a wide-brimmed floppy hat the color of Pepto-Bismol: not so much a pussy hat as the chapeau of a lioness. Among the signs she saw that day, her favorite was one held by a woman close to her own age; it said, "i can't believe i'm still holding this fucking sign." Atwood remarked, "After sixty years, why are we doing this again? But, as you know, in any area of life, it's push and pushback. We have had the pushback, and now we are going to have the push again."
Unlike many writers, Atwood does not require a particular desk, arranged in a particular way, before she can work. "There's a good and a bad side to that," she told me. "If I did have those things, then I would be able to put myself in that fetishistic situation, and the writing would flow into me, because of the magical objects. But I don't have those, so that doesn't happen." The good side is that she can write anywhere, and does so, prolifically. She is equally uninhibited about genre. Atwood's bibliography runs to about sixty books—novels, poetry, short-story collections, works of criticism, children's books, and, most recently, a comic-book series about a part-feline, part-avian, part-human superhero called Angel Catbird. She is offhanded about her versatility. "I always wrote more than one type of thing," she said. "Nobody told me not to." On one occasion, over tea, she showed me her left hand: it had writing on it. "When all else fails, you do have a surface you can write on," she said.
Hugh Miles, author of Al-Jazeera: How Arab TV News Challenged the World, writes for The Guardian:
On Monday a bold and controversial experiment in Middle Eastern media and politics may be abruptly brought to an end. Al-Jazeera – once heralded as the beacon of free Arab media that broke the hegemony of the western networks and reversed the flow of information from east to west for the first time since the middle ages – faces closing its doors for good.
On 23 June, Saudi Arabia, the United Arab Emirates, Bahrain and Egypt subjected Qatar to unprecedented diplomatic and economic sanctions, followed by an aggressive blockade and threats of further action if Qatar fails to meet a list of 13 demands, one of which is to shut down the al-Jazeera network.
If Doha capitulates – and there are no signs it will – it will effectively have lost its sovereignty and become a vassal state of Saudi Arabia and the UAE. Yet defying the deadline could lead to regime change in Qatar, or even war.
Whatever happens, it is a credit to al-Jazeera that, 21 years after its launch, it is still so disruptive and challenging to those in power. Few other media outlets can claim to be so influential. But al-Jazeera is not like other broadcasters. It is a unique phenomenon which, since it started broadcasting in 1996, has revolutionised the Arab media, and in 2010 played a major role in bringing about a real political revolution across much of the Arab world.