Kadira Pethiyagoda writes for The Independent: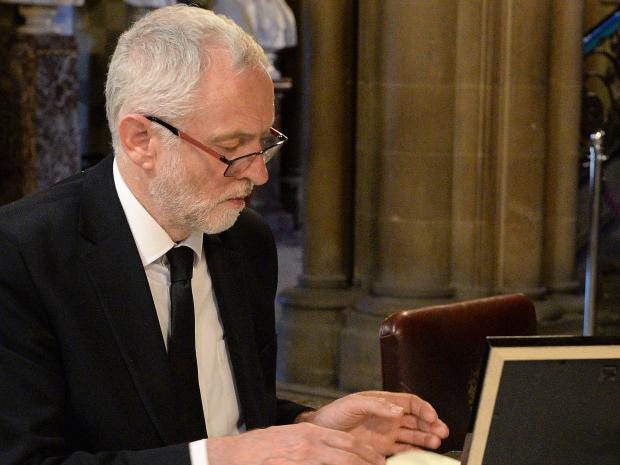 Tragic terror attacks like that in Manchester, inspiring fear and anger, often drive voters to back the incumbent. It is ironic then that one of the essential long-term solutions to the terror threat lies within the foreign policy agenda articulated by leader of the Labour Party, Jeremy Corbyn. In articulating his international vision at Chatham House, Corbyn went on the front foot, laying out a comprehensive vision for Britain's place in an insecure world.  Seeking to throw off the caricature-like branding of him as an ageing hippy, Corbyn's approach evinced the rational thinking of a seasoned observer of global politics.
Corbyn has been on the right side of history since he began his long political career, and his response to terrorism inspired by events in the Middle East is no different. Corbyn has been astute enough to realise the link between Western interventions in the Middle East and the terror threat emanating from the region. This is a link which is rarely discussed except in dismissive terms due to a form of right wing political correctness. As such, his approach targets some of the root factors driving terror ideology and facilitating the conditions under which terror spreads. It is also the most cost-effective method, important given the apparent lack of funds available for other policy areas like the NHS and the elderly.
Corbyn opposed the ill-fated regime changes in Iraq and Libya. He questioned the justifications when it was unpopular to do so. He was right. He warned of the repercussions. He was right. There is no longer any debate that both of these helped provide the space, motivation and chaos for extremist groups to thrive. Isis of course would not even exist if not for the Iraq War, and Al Qaeda would have less recruits. With regard to Libya, a 2016 report by the UK House of Commons Foreign Affairs Committee stated that the intervention was based on "erroneous assumptions", not on accurate intelligence.