C.J. Ciaramella reports for Reason: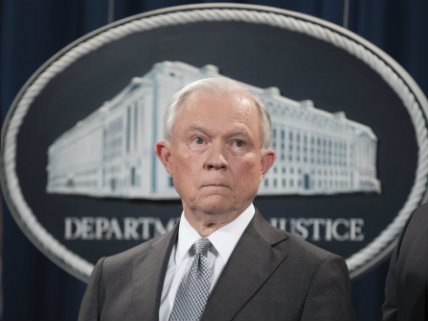 In a memo to U.S. attorney's offices released Friday morning, U.S. Attorney General Jeff Sessions ordered federal prosecutors to seek the toughest charges and maximum possible sentences available, reversing an Obama-era policy that sought to avoid mandatory minimum sentences for certain low-level drug crimes.
While the two-page directive leaves some discretion for prosecutors to avoid federal sentencing guidelines, the overall message is clear: Federal prosecutors have the green light to go hard after any and all drug offenses. "It is a core principle that prosecutors should charge and pursue the most serious, readily provable offense," Sessions wrote in the memo.
"We are returning to the enforcement of the laws as passed by Congress, plain and simple," Sessions said in a speech Friday. "If you are a drug trafficker, we will not look the other way, we will not be willfully blind to your misconduct."
The shift marks the first significant return by the Trump administration to the drug war policies that the Obama administration tried to moderate. In 2013, former Attorney General Eric Holder ordered federal prosecutors to avoid charging certain low-level offenders with drug charges that triggered long mandatory sentences.
The federal prison population dropped for the first time in three decades in 2014, and has continued to fall since, although the Bureau of Prisons is still operating at over its rated capacity.