Bethan McKernan reports for The Independent: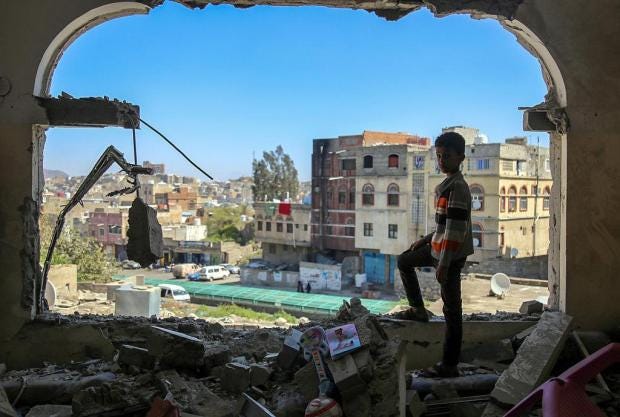 More than 10,000 dead. Approximately 19 million people in desperate need of humanitarian aid, including 7.3 million on the brink of famine. The figures in Yemen's two-year-old civil war are staggering – but they don't convey the daily suffering of civilians.
"The numbers do not show the human aspect. Unlike Syria, where news about the devastation and death makes it to the media very quickly, Yemenis suffer in silence," said Sherine El Taraboulsi-McCarthy, a research fellow at the Overseas Development Institute.
With the country's airports as well as land and sea borders controlled by neighbouring Saudi Arabia, no Yemeni refugees are fleeing to Europe in their thousands. Without any perceptible impact on the West or overspill of violence, the conflict has remained largely invisible.
The UN estimates $2.1bn (£1.6bn) is needed to pull Yemen back from the brink of collapse, but before humanitarians and diplomats gathered in Geneva, Switzerland, for an aid summit on Tuesday, just 14 per cent of that had been pledged by donor governments to date.
As the fate of 27 million people was discussed by foreigners sitting around the chamber at the UN's European headquarters, Yemenis trapped by the war struggle on with normal life as well as they can.