Esther Addley, Jonathan Watts and David Crouch report for The Guardian: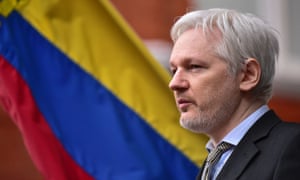 For Ecuador's 15 million inhabitants, Sunday's presidential election runoff will pose a fundamental question: whether to continue with a leftwing government that has reduced poverty but also brought environmental destruction and authoritarian censorship, or to take a chance on a pro-business banker who promises economic growth but is accused of siphoning money to offshore accounts.
But they are not the only ones for whom the result will be critically important. Thousands of miles away, in the country's tiny embassy in central London, Julian Assange will be watching closely to see if his four and a half years of cramped asylum could be coming to an abrupt, enforced end.
Guillermo Lasso, the businessman and leading opposition candidate, has vowed that if he wins, the WikiLeaks founder's time in the embassy will be up. Lasso has said he would "cordially ask Señor Assange to leave within 30 days of assuming a mandate", because his presence in the Knightsbridge embassy was a burden on Ecuadorian taxpayers.