Glenn Greenwald writes for The Intercept: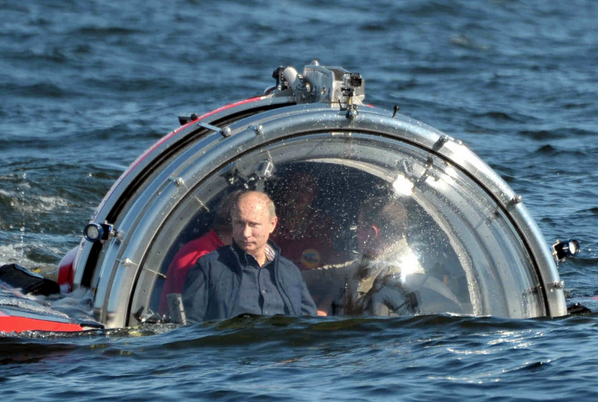 […] Few foreign villains have been vested with omnipotence and ubiquity like Vladimir Putin has been — at least ever since Democrats discovered (what they mistakenly believed was) his political utility as a bogeyman. There are very few negative developments in the world that do not end up at some point being pinned to the Russian leader, and very few critics of the Democratic Party who are not, at some point, cast as Putin loyalists or Kremlin spies.
Putin — like al Qaeda terrorists and Soviet Communists before him — is everywhere. Russia is lurking behind all evils, most importantly — of course — Hillary Clinton's defeat. And whoever questions any of that is revealing themselves to be a traitor, likely on Putin's payroll.
As The Nation's Katrina vanden Heuvel put it on Tuesday in the Washington Post: "In the targeting of Trump, too many liberals have joined in fanning a neo-McCarthyite furor, working to discredit those who seek to deescalate U.S.-Russian tensions, and dismissing anyone expressing doubts about the charges of hacking or collusion as a Putin apologist. … What we don't need is a replay of Cold War hysteria that cuts off debate, slanders skeptics and undermines any effort to explore areas of agreement with Russia in our own national interest." That precisely echoes what Stone observed 62 years ago: Claims of Russian infiltration and ubiquity are "the thesis no American dare any longer challenge without himself becoming suspect" (Stone was not just cast as a Kremlin loyalist during his life but smeared as a Stalinist agent after he died).
I've written extensively about all this throughout the last year, as Russia Fever reached (what I hope is) its apex — or, more accurately, its nadir. I won't repeat that all here.
But I do want to draw attention to an outstanding article in today's Guardian by the Russian-born American journalist Keith Gessen, in which he clinically examines — and demolishes — all of the hysterical, ignorant, fearmongering, manipulative claims now predominant in U.S. discourse about Russia, Putin, and the Kremlin.