Keith Gessen writes for The Guardian: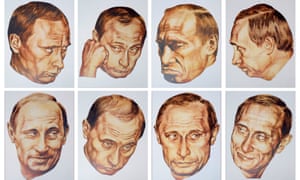 Vladimir Putin, you may have noticed, is everywhere. He has soldiers in Ukraine and Syria, troublemakers in the Baltics and Finland, and a hand in elections from the Czech Republic to France to the United States. And he is in the media. Not a day goes by without a big new article on "Putin's Revenge", "The Secret Source of Putin's Evil", or "10 Reasons Why Vladimir Putin Is a Terrible Human Being".
Putin's recent ubiquity has brought great prominence to the practice of Putinology. This enterprise – the production of commentary and analysis about Putin and his motivations, based on necessarily partial, incomplete and sometimes entirely false information – has existed as a distinct intellectual industry for over a decade. It kicked into high gear after the Russian invasion of Crimea in 2014, but in the past few months, as allegations of Russian meddling in the election of President Donald Trump have come to dominate the news, Putinology has outdone itself. At no time in history have more people with less knowledge, and greater outrage, opined on the subject of Russia's president. You might say that the reports of Trump's golden showers in a Moscow hotel room have consecrated a golden age – for Putinology.
And what does Putinology tell us? It turns out that it has produced seven distinct hypotheses about Putin. None of them is entirely wrong, but then none of them is entirely right (apart from No 7). Taken together, they tell us as much about ourselves as about Putin. They paint a portrait of an intellectual class – our own – on the brink of a nervous breakdown. But let's take them in order.