Nick Wadhams reports for Bloomberg: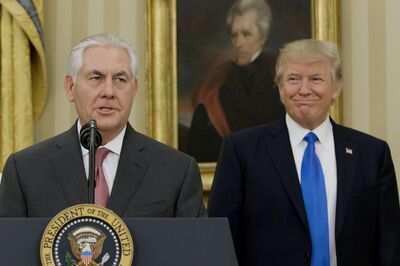 Exxon Mobil Corp. boasts that it drills for oil and gas on six continents and sells fuel and chemicals in almost every country on the planet. That global reach will pose a wealth of conflict-of-interest questions for former CEO Rex Tillerson now that he's the U.S. secretary of state.
Tillerson, who spent his entire 41-year career at Exxon, cut his financial ties under an ethics agreement after Donald Trump nominated him, giving up deferred stock rights in return for a $180 million cash payout to an independently managed trust. Tillerson also must recuse himself from decisions "directly and substantially related to" his former employer for two years under the president's ethics order for his appointees.
"He has severed himself in a pretty final and conclusive way, and I just don't see him being influenced given the structure of his disengagement," Stan Brand, an ethics lawyer at Akin Gump Strauss Hauer & Feld, said in an interview.
Yet the $350 billion company is so big, and so deeply entrenched in countries around the world, that Tillerson's past will inevitably shadow him, critics say. They say that no ethics agreement can protect against Tillerson viewing the world through "oil-coated glasses," as Senator Ed Markey, a Massachusetts Democrat, said this week.