Rowena Mason and Ewen MacAskill report for The Guardian: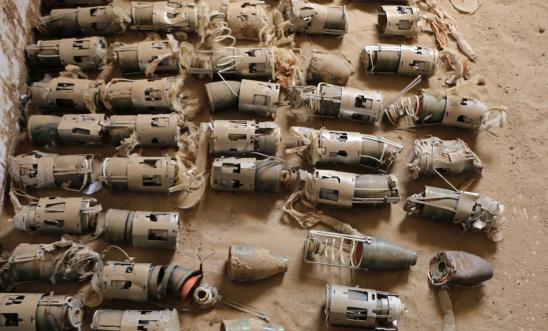 The defence secretary was forced to tell the Commons that British-made cluster bombs had been dropped by Saudi Arabia in Yemen, prompting MPs and charities to say that the UK should stop supporting the Gulf state's military action.
Sir Michael Fallon said that a "limited number" of the controversial BL755 bombs had been used by Saudi Arabia, shortly after the Gulf state formally admitted it had deployed the weapons in the Yemeni conflict.
Although an international treaty bans the use of cluster bombs, Fallon defended Britain's support for Saudi Arabia and insisted there was no breach of international law because they were used against "legitimate military targets".
The UK is one of 120 countries to have signed the 2008 Ottawa convention on cluster munitions, banning their use or assistance with their use. Saudi Arabia is not a signatory to the treaty. The munitions pose an indiscriminate risk to civilians because they contain dozens of bomblets that can explode long after they are dropped.