Patrick Cockburn writes for The Independent: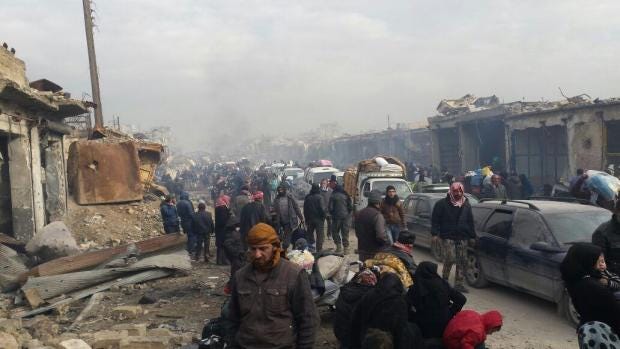 […] The dominance of propaganda over news in coverage of the war in Syria has many negative consequences. It is a genuine civil war and the exclusive focus of on the atrocities committed by the Syrian armed forces on an unarmed civilian population gives a skewed picture of what is happening. These atrocities are often true and the UN says that 82 civilians may have been summarily executed in east Aleppo last month. But, bad though this is, it is a gross exaggeration to compare what has happened in Aleppo to genocide in Rwanda in 1994 or the massacre in Srebrenica the following year.
There is nothing wrong or surprising about the Syrian opposition demonising its enemies and hiding negative news about itself. The Iraqi opposition did the same thing in 2003 and the Libyan opposition in 2011. What is much more culpable is the way in which the Western media has allowed itself to become a conduit for propaganda for one side in this savage conflict. They have done so by rebranding it as authentic partisan information they cannot check, produced by people living under the authority of jihadi movements that tortures or kills any critic or dissenter.
News organisations have ended up being spoon-fed by jihadis and their sympathisers who make it impossible for independent observers to visit areas they control. By regurgitating information from such tainted sources, the media gives al-Qaeda type groups every incentive to go on killing and abducting journalists in order to create and benefit from a news vacuum they can fill themselves.