David Sirota reports for the International Business Times: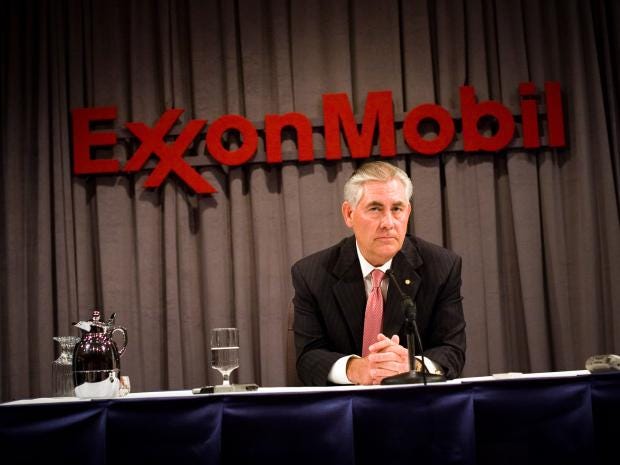 If ExxonMobil's top executive is appointed to run the State Department, he will be running an agency his company has repeatedly lobbied in recent years.
Under Exxon CEO Rex Tillerson, who is expected to be nominated Donald Trump's secretary of state, the oil colossus has directly lobbied the State Department on everything from sanctions against Russia and Iran to climate policy to the Trans-Pacific partnership and other controversial trade deals. An IBT review of federal records shows Exxon has been listed as lobbying the State Department on 20 separate government disclosure forms since the beginning of the Obama administration in 2009. The forms list a combined $43 million worth of total Exxon spending on lobbying, though not all of that was spent specifically lobbying the department that Tillerson would run.
Tillerson has mocked investments in renewable energy and has downplayed the effects of climate change. As secretary of state, he would be in a position that has been deeply involved in matters that affect Exxon and other oil and gas corporations. In the last few years, the State Department has forged an international drilling pact, promoted hydraulic fracking across the globe and negotiated climate and trade pacts that shape the fossil fuel economy