Trevor Timm writes for The Guardian:
'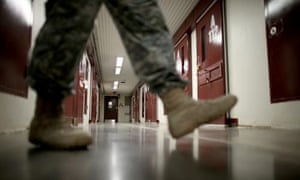 The Senate commendably passed an amendment "outlawing" torture by a wide margin on Monday, but given that torture is already against the law – both through existing US statute and by international treaty – what does that really mean?
The bill, a response by lawmakers to last year's devastating CIA torture report that exposed the agency's rampant illegal conduct and subsequent cover-up in the years after 9/11, would force all US agencies – including the CIA, finally – to comply with the Pentagon's rulebook on interrogations. It would also forbid any of the Pentagon's interrogation rules from being secret and give the Red Cross access to all detainees held by the US, no matter where.
One would've thought pre-9/11 that it would be hard to write the current law prohibiting torture any more clearly. Nothing should have allowed the Bush administration to get away with secretly interpreting laws out of existence or given the CIA authority to act with impunity. The only reason a host of current and former CIA officials aren't already in jail is because of cowardice on the Obama administration, which refused to prosecute Bush administration officialswho authorized the torture program, those who destroyed evidence of it after the fact or even those who went beyond the brutal torture techniques that the administration shamefully did authorize.
Since the Senate' report reinvigorated the torture debate six months ago, Obama officials have continued to try their hardest to make the controversy go away by stifling Freedom of Information Act requests for the full report and, in many cases, refusing to even read it. And Bush-era law-breakers were even given the courtesy of having their names redacted from the report, sparing them of public shaming or criticism, despite clear public interest to the contrary.'