Editor's Note: A Century of Spin by David Miller and William Dinan contains two excellent chapters (8 and 9) on the rise of New Labour that are well worth a read.
Toby Helm reports for The Guardian:
'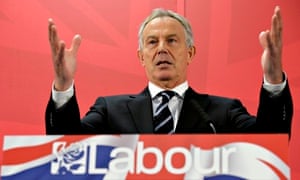 Tony Blair has insisted that Labour can recover from its disastrous general election defeat only if it reoccupies the centre ground of British politics, proudly championing a pro-business agenda and bold new ideas to reform public services.
As the party attempts to come to terms with a devastating result that saw the Conservatives returned to office for five more years with an unexpected Commons majority, the former prime minister and three-times election winner said Labour has to be "for ambition and aspiration as well as compassion and care".
While generous about Ed Miliband – praising him for showing "courage under savage attack" and campaigning brilliantly – Blair made clear in an article in the Observer that he believes Miliband's left-of-centre agenda alienated the business community and failed to appeal to those wanting to get on in life. In an unashamed call for the party to return to the approach of New Labour which Miliband abandoned, Blair wrote: "The route to the summit lies through the centre ground.'