Martin Chulov reports for The Guardian:
'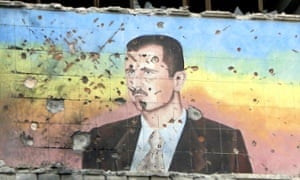 One evening at the end of March, a Syrian rebel leader returned from a meeting across the border in Turkey and called an urgent gathering of his commanders. The five men turned up at their boss's house in Idlib province expecting to receive the same pleas for patience that they had always heard and more grim news about cash and weapons being hard to find. This time, though, they were in for a shock.
"He arrived looking eager," said one of the commanders. "That caught our attention straight away. But when he started to speak, we were all stunned."
The leader, who asked that his unit not be identified, said he told his men that the grinding war of attrition they had fought against the Syrian government since early 2012 was about to turn in their favour.
"And the reason for that was that I could now get nearly all the weapons I wanted," he told the Observer. "For the first time they were not holding anything from us – except anti-aircraft missiles. The Turks and their friends wanted this over with."
The leader says he explained that they and every other opposition group in the north, with the exception of Islamic State (Isis), were about to be beneficiaries of a detente between regional powers who had agreed to put their own rivalries aside and focus on a common enemy – the Syrian regime.'