Editor's Note: To a man with a hammer, everything tends to look a lot like a nail. And even when it doesn't, he's going to try to convince you that it's a nail. The largest and most expensive military alliance in the world is always looking for excuses to prevent a drop in its defence spending and now they have it in the form of the Red Hitler who apparently wants to reform the Soviet Union and invade Eastern Europe. NATO chief Rasmussen steps down this summer, but his replacement and fellow Bilderberger will continue to push the same war hype propaganda. Last year the U.S. was talking about cutting its military budget in Europe as part of its 'Asia Pivot', now they're looking to increase it. Never let a good opportunity go to waste the saying goes, especially if it keeps your job from becoming irrelevant. 
David Blair reports for the Telegraph: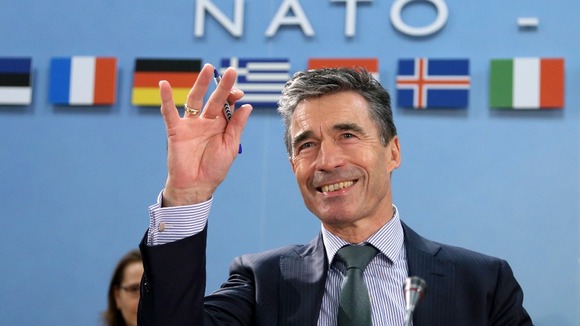 Britain and its Nato allies must respond to Russia's "illegal aggression" against Ukraine by spending more on defence, the alliance's secretary general has said. Writing in The Telegraph, Anders Fogh Rasmussen appeals for Nato members to modernise their armed forces as Russia tries to "carve up" Europe.
"Every ally needs to invest the necessary resources in the right capabilities," writes Mr Rasmussen. "That means modern equipment, intensive training for our forces, and closer cooperation among Nato allies and with our partners. I know how challenging this is in today's economic climate, but the security climate makes it vital." Mr Rasmussen adds: "In the long run, a lack of security would be more costly than investing now and we owe it to our forces, and to broader society."
The burden of defending Nato's 28 members falls increasingly on just one: the United States. Last year, America accounted for 72 per cent of Nato defence spending, up from 59 per cent in 1995. This reflects cuts in military budgets across Europe. Of the 25 European members of Nato, only Britain, Greece and Estonia met an unofficial target of spending at least 2 per cent of national income on defence last year. The average figure was only 1.3 per cent. America, by contrast, devoted 4.4 per cent of its national income to defence.