Itamar Eichner reports for Ynet News:
'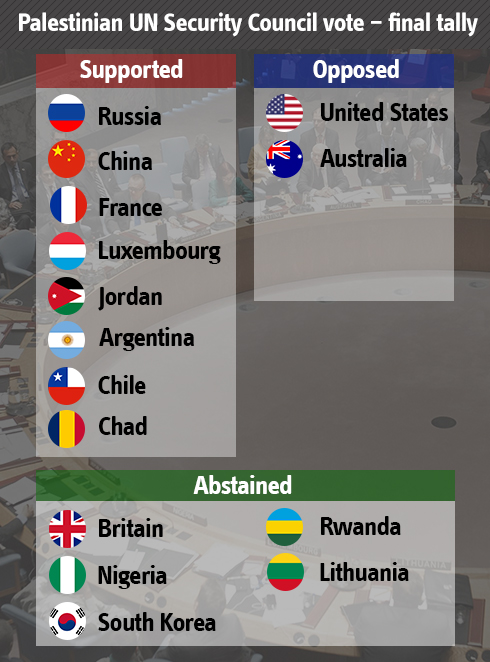 "There was a clear message from international community to the Palestinians: Do not try to use tricks to replace negotiations," a top Foreign Ministry official told Ynet, but the American effort to torpedo the Palestinian's UN Security Council resolution demanding Israel end its 'occupation' of the West Bank proved once again the importance of maintaining good relations with Washington.
Furthermore, the abstention by African nations also demonstrated the importance of the visits made by Foreign Minister Avigdor Lieberman to the African continent. However, the change of power set to take place in the Security Council on Thursday will change the balance of power against Israel.
The rejection of the Palestinian resolution by the UN Security Council on Tuesday night was a reminder of the great extent to which Israel-US relations serve as a critical factor in Israeli national security. It only strengthens the need for Israel to maintain good relations with Washington in general and more specifically with the White House, and prevent disagreements such as the one that occurred between Defense Minister Moshe Ya'alon and US Secretary of State John Kerry.
Israeli diplomats say that the US played a crucial role in the effort to block the Palestinian resolution which sought to set a time table for Israel's disengagement from territories for a future Palestinian state without direct negotiations.'