Ian Black reports for The Guardian:
'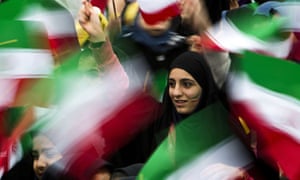 […] Prospects for recovery occupy as much space in the Iranian media as the chances of reaching a deal in the P5 + 1 nuclear negotiations in Vienna, which are due to end by Tuesday. Things are already looking up. The economy rebounded out of recession and grew 2.8% in 2014, President Hassan Rouhani's first year in office. The IMF predicts growth of 0.6% and 1.3% in 2015 and 2016 respectively. Inflation is down from 45% under the reckless and profligate Mahmoud Ahmadinejad to 15% today.
Expectations are high in the energy sector – the source of 35% of government revenues. Oil exports have halved since 2012 though the deputy oil minister said on Sunday that they could almost double when sanctions are lifted. "We are like a pilot on the runway ready to take off," a bullish Mansour Moazami told the Wall Street Journal. "This is how the whole country is right now."
Oil matters. But Iran's economy is far more diverse than that of Saudi Arabia, its great rival in the region. It is the world's largest exporter of cement, as well as pistachios, saffron and caviar. Shipping is another big earner. State-owned Iran Shipping Lines has been badly hit by sanctions and stands to benefit significantly when they go, analysts say.
The single most urgent change business wants is the end to the ban on bank transfers under the international Swift system. "That has been the biggest blow," said Rouzbeh Pirouz, chairman of Turquoise Partners. "But it's not just that. Iranian companies have had difficulty trading and participating in global markets."'