Seamus Milne writes for The Guardian:
'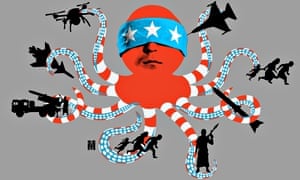 […] Since the disasters of Iraq and Afghanistan, the US and its allies are reluctant to risk boots on the ground. But their military interventions are multiplying. Barack Obama has bombed seven mainly Muslim countries since he became US president. There are now four full-scale wars raging in the Arab world (Iraq, Syria, Libya and Yemen), and every one of them has involved US and wider western military intervention. Saudi Arabia is by far the largest British arms market; US weapons sales to the Gulf have exceeded those racked up by George Bush, and last week Obama resumed US military aid to Egypt.
What has changed is that, in true imperial fashion, the west's alliances have become more contradictory, playing off one side against the other. In Yemen, it is supporting the Sunni powers against Iran's Shia allies. In Iraq, it is the opposite: the US and its friends are giving air support to Iranian-backed Shia militias fighting the Sunni takfiri group Isis. In Syria, they are bombing one part of the armed opposition while arming and training another.
The nuclear deal with Iran – which the Obama administration pushed through in the teeth of opposition from Israel and the Gulf states – needs to be seen in that context. The US isn't leaving the Middle East, as some imagine, but looking for a more effective way of controlling it at arm's length: by rebalancing the region's powers, as the former MI6 officer Alastair Crooke puts it, in an "equilibrium of antagonisms".'