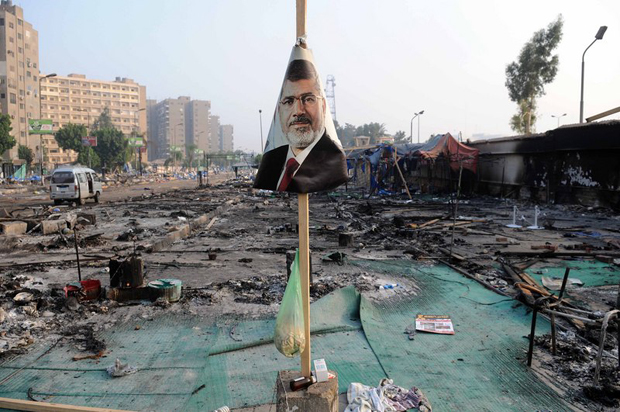 From Salon:
The news from Egypt sounds delusional these days. Military coup, massacres, church burnings, mass arrests, curfews and vigilante checkpoints, attacks on police stations, shuttered television channels, an inflated pro-military patriotism among journalists, and, to cap the most bizarre of twists, Mubarak's release from prison.
State and private television have been parroting baseless claims in favor of the coup with banners and somber music warning the new government is fighting an existential war on domestic terror. Ikhwan Web, the official news portal of the Muslim Brotherhood, acts as if Morsi's one-year rule was a prophetic revelation, while Mubashir Misr, the Al Jazeera service devoted to Egypt, has shamelessly turned into an MB headquarters relaying only one side of the story.
This kind of impulsive, Fox-ified journalism would be disastrous anywhere, but it has proven catastrophic in a country where 90 percent of the population get their news from television.
So what exactly happened in the course of Morsi's brief rule to turn the news narrative in Egypt from progressive uprisings to crippled revolution, from the hopes of free civilian rule to military rule, and from the fears of the deep state to the war on terror? Many have warned against Morsi's aggressive power-grab policies and the Muslim Brotherhood's meager support for more inclusive politics. But how did Egypt move from a political stalemate to a popular coup and a brutal crackdown with little public outcry? (Sixty-seven percent of Egyptians support recent military intervention.)The answer is simple and troubling. The media in Egypt today are vengeful and when revenge drives reporting, facts become secondary. If you ever wondered about the perils of Fox News' opinionated and polarizing reporting, Egyptian media offer us a disturbing window into a society literally destroying itself. They are revealing to all of us just how deadly a concoction of fact-free journalism, dogged ideology and populism can be.
OTHER RECENT NEWS FROM EGYPT: