Lindsey German writes for Stop the War: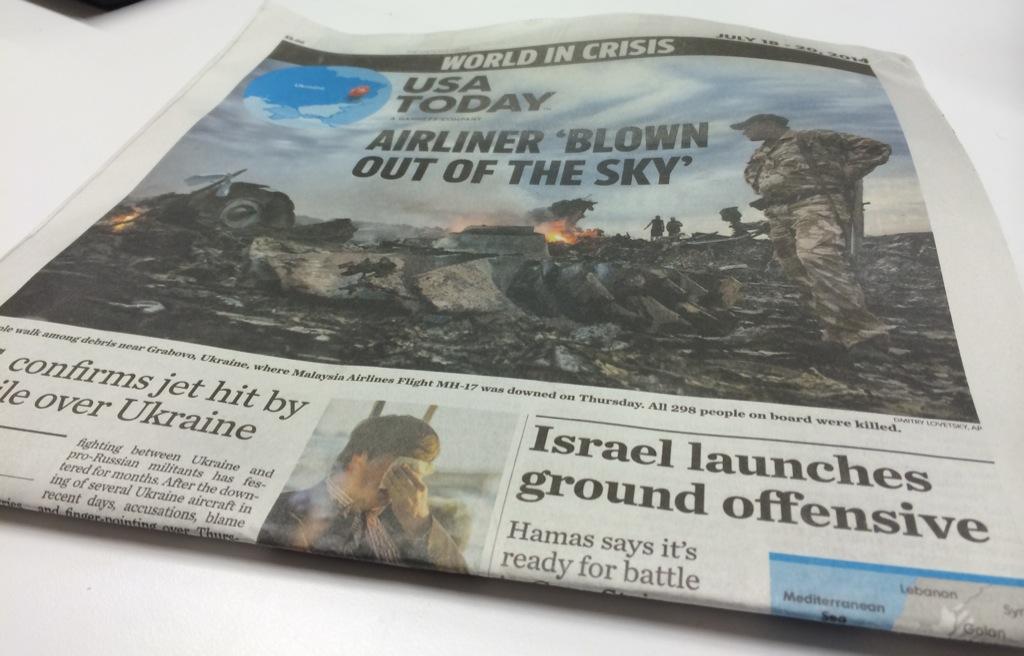 'The fear Channel 4 journalist Jon Snow's expressed on Twitter has turned out to be all too prophetic: "Awful danger that the shooting down of flight MH17 will provide cover for an intensification of Israel's ground war in Gaza". Yet the coverage of both events in the western media shows a quite shocking disproportion of standards between the two. While new Foreign Secretary Philip Hammond argued the case for more sanctions on Russia as a result of the shooting, David Cameron, writing in the Sunday Times, went even further:
"This is a direct result of Russia destabilising a sovereign state, violating its territorial integrity, backing thuggish militias and training and arming them. We must turn this moment of outrage into a moment of action."
The wording is uncannily reminiscent of Tony Blair's call for action after 9/11, which has created much of the horror we are now seeing in the world. The media refer to Putin as a 'terrorist', there are calls to brand the Ukrainian separatist organisations as terrorist, and there are demands from the Dutch and other governments to take even stronger strong action against Russia.
It is hardly worth recording that attitudes to Israeli bombing and ground invasion are completely different in tone, let alone in trying to apply serious sanctions to a government which has repeatedly attacked Palestinians and who used the kidnapping and killing of three Jewish students on the West Bank to launch another attack on Gaza. When Philip Hammond was asked, by the BBC's Andrew Marr, whether Israel was acting disproportionately in Gaza, he three times refused to answer, but blamed Hamas.'