Mark Mazzetti and Helene Cooper report for The New York Times:
'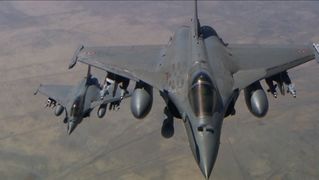 As the Middle East descends into proxy wars, sectarian conflicts and battles against terrorist networks, countries in the region that have stockpiled American military hardware are now actually using it and wanting more. The result is a boom for American defense contractors looking for foreign business in an era of shrinking Pentagon budgets — but also the prospect of a dangerous new arms race in a region where the map of alliances has been sharply redrawn.
[…] The United States has long put restrictions on the types of weapons that American defense firms can sell to Arab nations, meant to ensure that Israel keeps a military advantage against its traditional adversaries in the region. But because Israel and the Arab states are now in a de facto alliance against Iran, the Obama administration has been far more willing to allow the sale of advanced weapons in the Persian Gulf, with few public objections from Israel.
[…] Industry analysts and Middle East experts say that the region's turmoil, and the determination of the wealthy Sunni nations to battle Shiite Iran for regional supremacy, will lead to a surge in new orders for the defense industry's latest, most high-tech hardware.'