Patrick Cockburn writes for The Independent: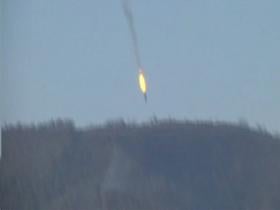 […] Nato countries will give some rhetorical support to Turkey as a Nato member, but many will not be dismissive in private of President Vladimir Putin's angry accusation that Turkey is the accomplice of terrorists. Turkey's support for the Syrian armed opposition, including extreme groups like Jabhat al-Nusra and Ahrar al-Sham, has been notorious over the last three years. Its relations with Isis are murky, but it has been credibly accused of allowing the self-declared Islamic State to sell oil through Turkey.
Turkish President Recep Tayyip Erdogan is in a strong domestic position because of his sweeping parliamentary election victory on 1 November. But he has seen what appeared to be a strong Turkish position in the Middle East in 2011 deteriorate year by year as leaders and movements he supported, such as President Morsi in Egypt and the opposition in Syria, suffer defeats.
At the same time, it is damaging for Turkey to have bad relations with Russia and Iran, two powerful neighbours close to its borders. Leaders of Nato countries will want to prevent further Russian-Turkish hostilities, so they can look for Russian cooperation in attacking Isis and ending the Syrian conflict.