Scrape away the media sensationalism and geopolitical posturing and it boils down to a simple dynamic: follow the energy. Though many seem to believe that internal politics and geopolitical posturing in Ukraine are definitive dynamics, I tend to think the one that really counts is energy: not only who has it and who needs it, but where the consumers can get it from. Let's cut to the chase and declare a partition along long-standing linguistic and loyalty lines a done deal. Let's also dispense with any notions that either side can impose a military solution in the other's territory. Media reports on the weakness of Ukrainian military forces abound (for example, Ukraine Finds Its Forces Are Ill Equipped to Take Crimea Back From Russia), but Russia's ability to project power and hold territory isn't so hot, either. [...] A de facto partition is already baked in because neither side can force a re-unification. Various jockeying and posturing will undoubtedly continue for some time, but the basic end-game is already visible: de facto partition.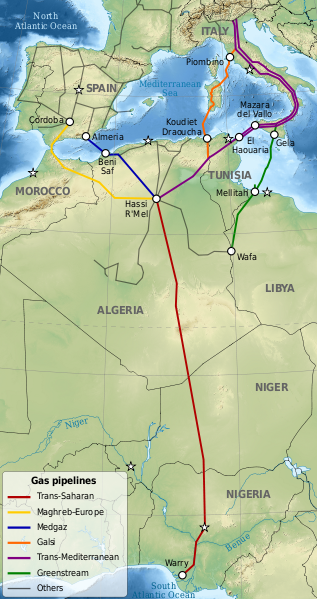 [...[ This map rounds out the European energy Rosetta Stone. When they hear that Italian fighter jets are over Tripoli, or that the French Foreign Legion has returned to the deep Sahara Desert, they can can better understand the reasons and real objectives of such operations.
Many have noted that the Russia economy is critically dependent on oil and gas exports to the EU. It should be noted that the converse is less true every day about EU dependence on Russian oil and gas. The Wall Street Journaleven had a line about an EU proposal to push natural gas EAST to the Ukraine. It's hard to understand that passage or where the natural gas could come from unless one understands the North Africa to southern Europe gas pipelines.
The factors bringing the conflict in Ukraine to a head are:
1. The natural gas discoveries in eastern Poland and western Ukraine played the largest role.
2. The reduced importance of the gas pipeline running through the Ukraine to Europe as compared to 2009. Since that time the Nordstream lines have been finished and Gazprom acquired commercial control of the Belarus pipeline. The South Stream lines are well along in development.
3. Fast developing liquid natural gas (LNG) seaport terminal infrastructure.
Events in Libya, Mali and Algeria are not hermetically isolated from this. They are part of a comprehensive energy policy problem being dealt with by the same leaderships. It increasingly looks like a series of peripheral Energy Wars that are being fought out for control of Europe. LNG exports are going to become a weapon in the struggle for geopolitical influence and control.
This highlights another problem for Russia/Gazprom. Its present natural gas advantage in Europe now rests mainly on its pipeline infrastructure. This advantage is fading due to the current and proposed pipeline projects running through Turkey to Europe, plus LPG terminal & ship developments, plus the five trans-Mediterranean pipelines from Libya, Algeria and Morocco to southern Europe, plus local shale gas plays…
The Ukraine is not the only country becoming less systemically important to Europe for natural gas supply. So is Russia. Current events will only accelerate everyone's efforts to diversify away from such an unstable and apparently dangerous supplier. I think the long-term fallout from the Ukrainian Crisis will be similar to China's attempt to exploit its temporary low price monopoly position in rare earth metals a few years ago. The result is rare earth metals are becoming less rare by the day as alternate mines outside China are opened and reopened.