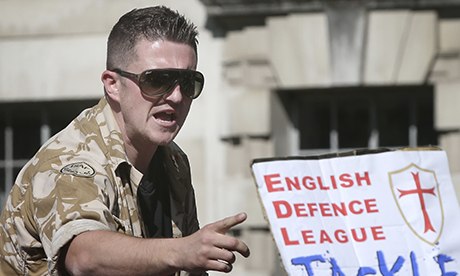 From The Guardian:
The leader of the English Defence League, Tommy Robinson, has announced he is leaving the organisation because it has become too extreme.
Robinson, who leads anti-Islam protests that have often turned violent and have been marked by racist chanting, said Islamist ideology should be challenged "not with violence but with better, democratic ideas".
Robinson, who set up the EDL in 2009 ostensibly to combat extreme Islamism in the UK, is facing criminal charges in relation to his activities with the group.
The 30-year-old from Luton, whose real name is Stephen Yaxley-Lennon, said: "I have been considering this move for a long time because I recognise that, though street demonstrations have brought us to this point, they are no longer productive. I acknowledge the dangers of far-right extremism and the ongoing need to counter Islamist ideology not with violence but with better, democratic ideas."
His decision was announced in a press release from the counter-extremism thinktank the Quilliam Foundation, which said it had "facilitated" Robinson's departure and that of the EDL co-founder. Kevin Carroll, also from Luton.